Be ~ Personalized Fine Art Book
$

500.00
Sold out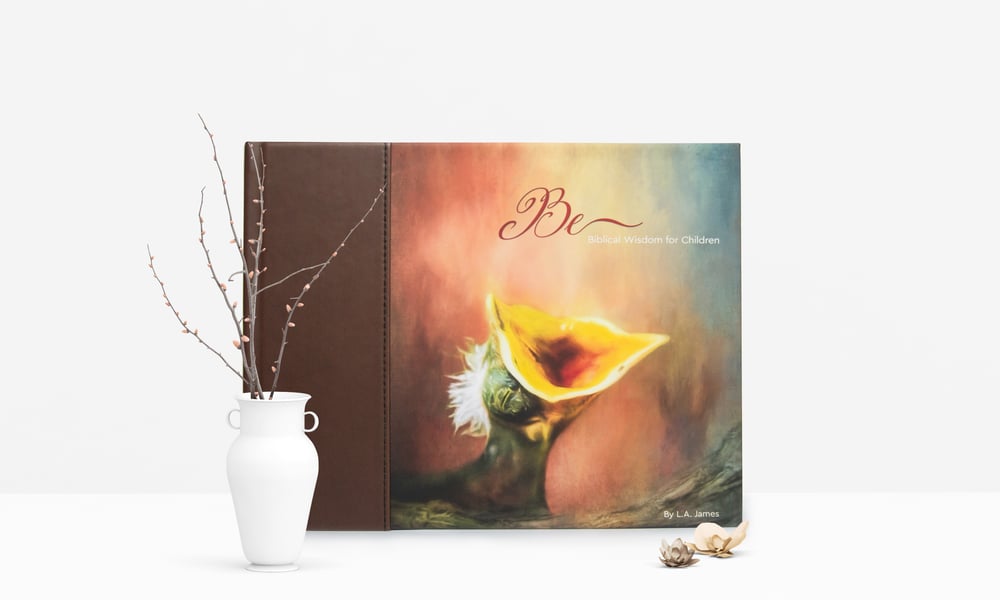 Make an Impression
Be is an 8.5 x 11 fine art book that is customized just for you. The book is handcrafted with a sturdy hardcover that is made from animal-free faux leather. The cover is composed of a brown hand-stitched side panel with a customized cover. The inside of the book is a fine art, black paper, which covers up the hand stitching from the leather-wrapped cover.
The cover is sophisticated, and it is sure to impress. Be is a fine art book that is a unique item, which will be cherished and passed down from generation to generation!
The Ways You Can Pass It On
Be is a unique book that is tailored to your needs. It makes a wonderful treasured heirloom, and it is a great gift for baby dedications, christenings, graduations, and weddings. The wisdom contained in the book is timeless, and the art is beautifully done.
Make it Personal and Stand Out
The cover is made with the first name of the recipient you wish to give it to. For instance, it might say, "Be~Biblical Wisdom for Becky." The "from" name includes the name you wish placed on it. For instance, you might want it to say, "Love, Nanna." The second page of the book says, "By L.A. James."
The last page within the book has space for you to include a letter. This book is meant to be a legacy item. I encourage you to share a lesson you have learned about wisdom to the recipient, which makes the book personal, memorable, and highly anticipated. Not only are you impacting the recipient, but your words are traveling through generations. Your story will be remembered.
Extra Product Details
The paper is lightweight, and it curves up slightly at the spine. It is a Lustre Paper that highlights vibrant colors. It is printed with HP Indigo printing technology with liquid inks, which enhance the look of every image.
See the Personalization of Books page on how this process works
Please note: I currently take only 8 orders a year for this fine art item, and I cut off orders on October 15.
If the product is "sold out" you can join the waitlist, which will enable you to get a jump in line. Fill out the contact form requesting to join the wait list, and I will contact you.

Fully made in the USA
See a short video Here:
http://www.jameswritinganddesign.com/be-fine-art-book.html